Green Roofs: Benefits
What is a Green Roof?
A green roof is a complete system devised to allow you to grow plants on the roof of your house or building without incurring any leaks or damage to the roof membrane that protects the building envelope.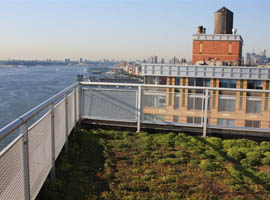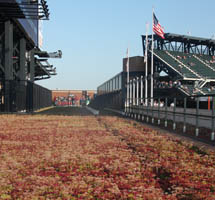 What are the Benefits of Green Roofs?
Reduces stormwater runoff and filters pollutants; neutralizes acidity of acid rain
Improves air quality and helps offset carbon footprint
Acts as a sound proofing barrier (up to 40 decibels in some cases)
Doubles to triples lifespan of roof by protecting roof surface from contraction and expansion and harmful UV rays and acid rain degradation
Insulates and cools building, reducing utility costs
Aethetically pleasing; improves productivity and morale in corporate environments
Qualifies for up to 15-20 LEED certification points from USGBC
Create habitat for birds and insects
Reduces "urban heat island effect" by cooling urban environment through evaporative transpiration