Green Roofs: How the Metro Green Visions Hybrid system works
The Hybrid system has arrived!
MGV GroRoof TM Components and Structure
Components of the MGV patent pending green roof system are as follows, starting from the base that is set on a waterproofed roof designed by an architect or engineer specifically for a green roof installation:
Platform The rigid base is constructed of 100% recycled polypropylene. This platform contains a reservoir to store water with channels that interconnect groupings of water retainers. The channels allow for the flow of excess water through holes in the channel and for air circulation through the same holes. The air circulation attribute of this system helps prevent root rot which has been a problem for modular tray systems. The MGV system has the flexibility to change the water retention capacity based on plant and climatic needs. The system encapsulates the water within each individual grouping. This is important where the system is installed on a modestly sloped roof of 1% to 15% for this prevents the flow of water from one group to the adjoining group of reservoirs. This is an important factor for the even distribution of water within the total system for this prevents the stored water from completely flowing to the lowest elevation of the roof. Each platform interlocks with the adjoining panels, preventing shifting after installation, and simplifies the initial installation of the green roof. The interlocking system allows for adjoining panels to be installed in a staggered system in one direction (i.e. running bond pattern). Panels are easily removed, providing access to the roof below, which is important for any necessary roof servicing. The under portion of the panel allows excess water from the portals in the platform or from adjacent areas to flow, without obstruction, to the roof's drainage system.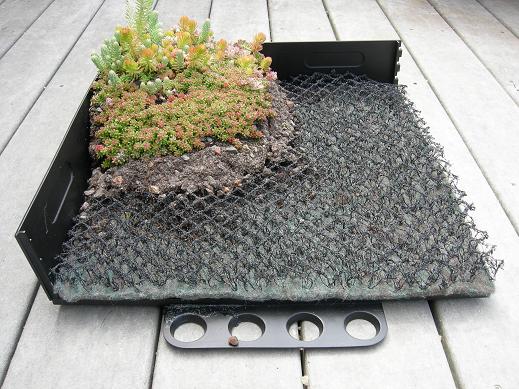 Removable Side Walls are placed along all four sides, preventing the movement of soil during the initial planting and establishment period. The sides, which interlock, are designed for easy removal once the platform is set in place on the rooftop. The four corners of the walls are designed to stack, preventing damage to the plants during delivery. The sides are also constructed from 100% recycled polypropylene and are made to be recycled and will be reused. The height of the sides can vary and is available in 3.5" and 6". The removal of the side walls allows for one hundred percent interfacing of soil and plants from each adjoining panel unlike tray systems which partially interface or do not interface at all. This gives our system all the attributes of a grown in place roof where there is continuity of soil, drainage, and planting. In a modular tray system, sometimes seams remain visible. MGV GroRoof™ will appear as a seamless natural surface during all seasons as opposed to other modular systems, where the division of each module is even more obvious during the winter dormant season.
What waterproofing systems work with your green roof system?
The most commonly used waterproofing membranes for green roofs are:
EPDM: ethylene propylene diene monomer creates a rubber layer membrane on the roof. Seams are sealed chemically which can lead to longterm problems and leaks if they are not properly done.


PVC: polyvinyl chloride is welded together with hot air to create a single layer membrane


TPO: membranes comprised of ethylene propylene rubber that has seams sealed with hot air