Benefits of G-O2&reg Living Walls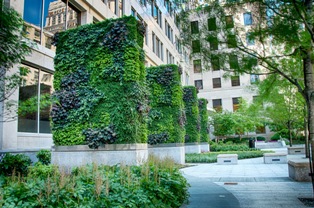 What are the benefits of green walls?
Reduces urban heat island effect and smog
Cleans outside air of pollutants and dust and offsets the carbon footprint of people and fuel emissions
Cleans interior air space by removing VOCs and other harmful toxins like benzene and formaldehyde
Acts as a sound proofing barrier
Soil and plants are a natural filter that can clean the water that flows through the wall
Insulates and cools the building envelope, as well as protecting it from the elements
Creates habitats for birds and beneficial insects, increasing biodiversity
Can be used for growing food in urban settings, creating sustainable and local control of food sources
Increases real estate value
Increases foot traffic in retail spaces
Speeds recovery time for patients through biophilia
Helps children with ADHD focus better in school
Reduces absenteeism in the workplace and boosts employee morale
Qualifies for LEED certification points from USGBC
Can green walls qualify for LEED points?
Sustainable Sites Credit 7.1: Landscape Design that Reduces Urban Heat Islands, Non-Roof (1 pt). Exterior green walls reduce the solar reflectance of a structure, thus reducing the urban heat island effect.
Water Efficiency Credits 1.1, 1.2: Water Efficient Landscaping (1 to 2 pts). Buildings can incorporate a stormwater collection system for irrigation of the green walls and other landscape features. Using only captured, recycled, or nonpotable water may enable the project to achieve this credit.
Water Efficiency Credit 2: Innovative Wastewater Technologies (1 pt). Green walls can be utilized as wastewater treatment media for gray water. Other features, such as the incorporation of compost tea from a composting toilet, is another way for green walls to aid in the reduction of wastewater.
Energy & Atmosphere Credit 1: Optimize Energy Performance (1 to 10 pts). Green walls can provide additional insulation and natural cooling, which reduces a building's reliance on mechanical systems.
Innovation in Design Credits 1-4: Innovation in Design (1 to 4 pts). Green walls may contribute to innovative wastewater or ventilation systems.