G-O2&reg Living Wall Maintenance & Advantages
How do you maintain green walls?
Since green walls are dynamic, living things, they must be maintained. Having a green wall is a commitment, like having a pet or a garden. Think of it as a landscape or garden turned sideways to grow up a wall. To thrive, it should be cared for by a professional maintenance technician (recommended and trained by PCI). The most important aspect of the maintenance is ensuring that the irrigation system is working properly. This means not under watering or OVER watering the plants. And, like a garden, plants must be occasionally pruned, fertilized, and weeded if necessary; and sometimes plants will need to be replaced. A trained maintenance expert will be able to set up an automated fertilizing system that works with the irrigation system, if you request this feature. The plant palette used really determines the level of maintenance the wall will require, just like in a typical landscape or garden.
Do you provide any remote monitoring services?
Yes! PCI has a state-of-the-art G-O2&reg Remote Monitoring System that measures many factors including soil temperatures, moisture levels, humidity et al in real-time through radio telemetry, which ensures that we always have our finger on the pulse of what is happening in any of our living wall projects. Data is collected for trending analysis and preventative measures can be taken as enough data is collected to begin to make predictions. Additionally, the G-O2&reg Remote Monitoring System records all maintenance activities performed and plant health status. Not only does this feature optimize the health of the living wall plants, but most importantly it protects your investment and extends the G-O2&reg Living Wall longevity.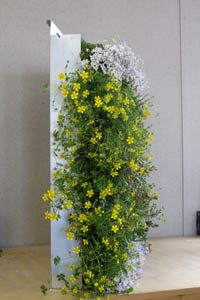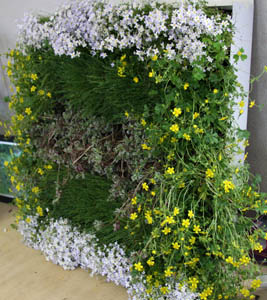 Advantages of our patented G-O2&reg Living Walls
Made in the USA, not imported from overseas
Fabricated from metal rather than plastic, 100% recyclable and more LEED friendly
Metal parts not susceptible to cracking from freezing and thawing or UV degradation like plastic counterparts
Customizable to any configuration or surface, with custom trim and accessories available
10-year warranty on panels
Soil-media based system rather than hydroponic, meaning lower water use
Employs local labor and provides green jobs for regional installations
Technical support provided for installations with PCI's Technical Consultant
All G-O2&reg Living Wall installers, maintenance companies, and growers are trained and supported by PCI's experienced horticultural experts
Larger planting areas with unique design allow for free flow of water and root migration throughout the panels
Simplicity of design ensures quick and easy installation and maintenance
Lower plant replacement rates than other living wall systems
Available option for 100% natural and biological management of your living wall
Proven track record of successful projects throughout North America for several years