Welcome to the Green Wall & Green Roof Source
Plant Connection, Inc. & G-O2&reg Living Walls
Plant Connection is the exclusive global grower and US distributor for G-O2&reg Living Wall Systems. PCI manufactures, designs, and grows G-O2&reg Living Walls, which are specially engineered for plant performance and sustainability. As a modular system, it mounts easily to different surfaces, allowing for multiple applications. Its own built-in irrigation and monitoring system ensures the viability of your custom plant selection. Our pre-grown G-O2&reg Living wall products can be used for interior or exterior vertical garden projects.
Horticultural Specialists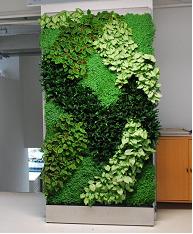 As a full service green wall company with a thorough horticultural background, we will consult with you on plant choices for your specific location. Our G-O2&reg Living Walls are successful because:
All plant material is specially customized for each project
All products come pre-grown by Plant Connection, Inc., which allows you to have a mature and healthy product ready for installation
We offer complete horticultural support from design concept to installation and maintenance with our trained horticultural professionals and design specialists
With over 50 years of combined nursery growing experience, we know the horticultural science behind what it takes for plants to successfully thrive in all growing environments - from the ground, to the roof, and on the wall! On our 42 acres of nursery, we also specialize in growing green roof plants for all applications and systems, and offer specially engineered green roof soil media.
With full horticultural support and innovative design, G-O2&reg products represent the best quality available in the marketplace today. Call us today for help in planning your green wall or green roof project. Let our team of experts guide you throughout the entire process.