Welcome to the Green Wall & Green Roof Source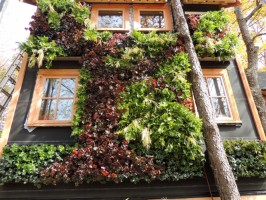 Plant Connection was featured on the season premiere of Treehouse Masters! PCI installed a G-O2® Living Wall on the side of an incredible, adventure-themed treehouse for a young, exploration-loving family in the heart of Pennsylvania's Pocono Mountains.
PCI is very grateful for the opportunity to be included on the show, working alongside the very talented Pete Nelson and his entire team.
To learn more, watch the episode Temple of Adventure on Animal Planet and the Discovery Channel. Watch Greenroofs.com's "Project of the Week" feature video below.
View Newsletter.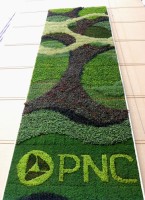 On September 28, 2012, a more than two thousand square-foot exterior G-O2® Living Wall was unveiled on the building façade of One East Pratt Street in Baltimore, making it the largest living wall in Maryland.
The G-O2® Living Wall has some important features that will help advance the success of living architecture, including the use of a unique, cutting edge remote monitoring system. This technology was first installed in another very large iconic living wall in Pittsburgh during a complete overhaul in May of 2012 that included an upgraded G-O2® Living Wall system, irrigation system, and state-of-the-art remote monitoring sensors provided by Plant Connection, Inc.
This valuable data recorded in two of the largest exterior living walls in the United States will be studied and used to help inform and further advance the greater green wall industry as a whole.
View Newsletter.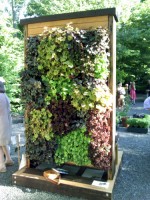 One block from the Freedom Tower, Plant Connection installed a 32′ x 60′ interior G-O2® Living Wall. PCI's green wall designer, Sabrina Buttitta, BSLA, designed an "organic tapestry" of plants to balance the magnitude of the 23-story corporate atrium.
The 1,920 SF living wall is home to 11,673 plants and contains a 12-zone irrigation system with a remote monitoring system to optimize the health of the plants. PCI's President, Anthony Caggiano, and Vice President, Melissa Daniels, work closely consulting the maintenance company, and at any minute, know the status of the wall's health.
Studies have shown that buildings strategically placing and promoting access to vegetation have been documented as having a greater positive human health impact than those without. This living wall adds to the list of metropolitan areas with green walls that are greatly impacting the urban landscape.
In 2013, the 23-Story Atrium Living Wall project won two awards at PIA (Plantscape Industry Alliance). It won the Award of Excellence and the Judge's Choice Award for top overall project.
To learn more, watch Greenroofs.com's "Project of the Week" feature video below.
PCI's Future Solar Farm
PCI's Melissa Daniels, vice president, and Anthony Caggiano, president, speak about their upcoming solar energy project! Some East End farmers, like PCI, want to use their land to harvest power and make some money. Multiple farmers are seeking permission to allow companies to install solar panels on their property in exchange for a fee. They hope to gain income to stabilize costs, while preserving the environment.
Part 1:
Part 2: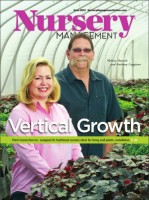 Melissa Daniels and Anthony Caggiano re-invented Plant Connection when they recognized a growing market for green wall plants.
View Article.
Plant Connection, Inc. & G-O2® Living Walls
Plant Connection is the exclusive global grower and US distributor for G-O2® Living Wall Systems. PCI manufactures, designs, and grows G-O2® Living Walls, which are specially engineered for plant performance and sustainability. As a modular system, it mounts easily to different surfaces, allowing for multiple applications. Its own built-in irrigation and monitoring system ensures the viability of your custom plant selection. Our pre-grown G-O2® Living wall products can be used for interior or exterior vertical garden projects.
Horticultural Specialists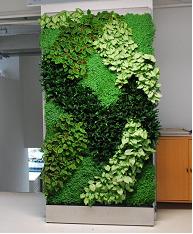 As a full service green wall company with a thorough horticultural background, we will consult with you on plant choices for your specific location. Our G-O2® Living Walls are successful because:
All plant material is specially customized for each project
All products come pre-grown by Plant Connection, Inc., which allows you to have a mature and healthy product ready for installation
We offer complete horticultural support from design concept to installation and maintenance with our trained horticultural professionals and design specialists
With over 50 years of combined nursery growing experience, we know the horticultural science behind what it takes for plants to successfully thrive in all growing environments - from the ground, to the roof, and on the wall! On our 42 acres of nursery, we also specialize in growing green roof plants for all applications and systems, and offer specially engineered green roof soil media.
With full horticultural support and innovative design, G-O2® products represent the best quality available in the marketplace today. Call us today for help in planning your green wall or green roof project. Let our team of experts guide you throughout the entire process.